En Pointe Ballet Photography Workshop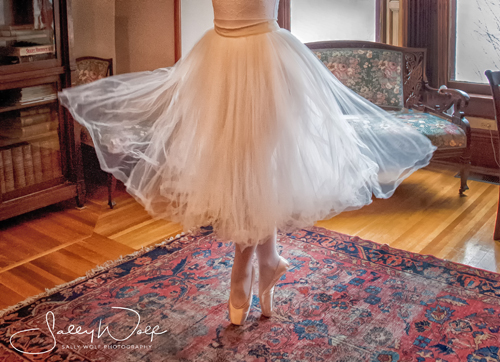 En Pointe
Ballet Photography Workshop
Saturday, April 29, 2017
Limited to 12 Participants
Photo experience with 3-4 trained ballerinas, posing in The Benton House, a Victorian style home, located in historical Irvington, Indianapolis, IN.  This is a chance to capture the beauty, strength, and discipline of dancers in a unique setting.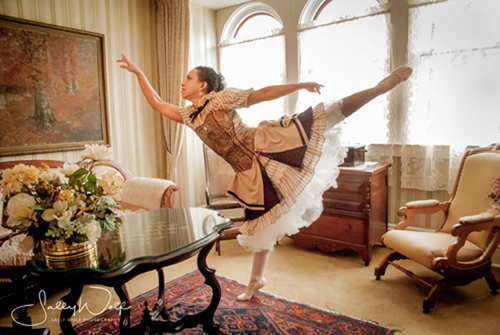 Highlights
I have arranged with Anderson University's, Associate Professor of Dance, Shauna Steele to bring some of her talented and advanced ballet students to pose for us.  Shauna, as seen in these photos, will have the dancers dress in traditional tutus plus ballet dance costumes reflecting the romantic Victorian era.
We will have three groups of 4 photographers each and group by skill level.  Shauna will supervise and assist the ballerinas with their posing.  I can guide those that need assistance with the cameras. If the spring weather cooperates, we will possibly take photos around the beautiful gardens outside the house.  Inside photography will all be shot with natural light.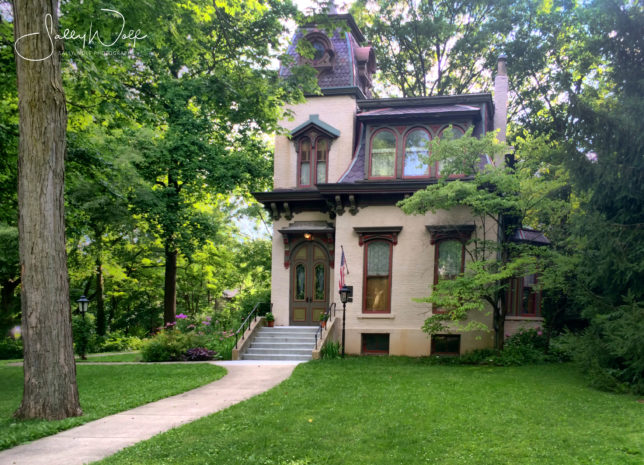 Location
Address is: 312 S. Downey Avenue, Indianapolis, IN 46219. The Benton House, operated by the Irvington Historic Landmarks Foundation, is a non-profit organization, so fees generated from the use of the house are used to defray the costs of operating and maintaining the house.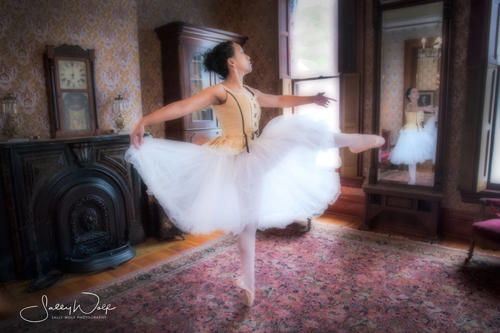 Agenda
Hours: 9:00 am – 12:00 pm
Saturday morning – 9:00 am we will have a meet and greet at The Benton House.  Dancers, instructor intros and ballet images will be shared.  There are 5 available rooms in the house and each group will rotate to photograph all the ballerinas in different costumes and different rooms.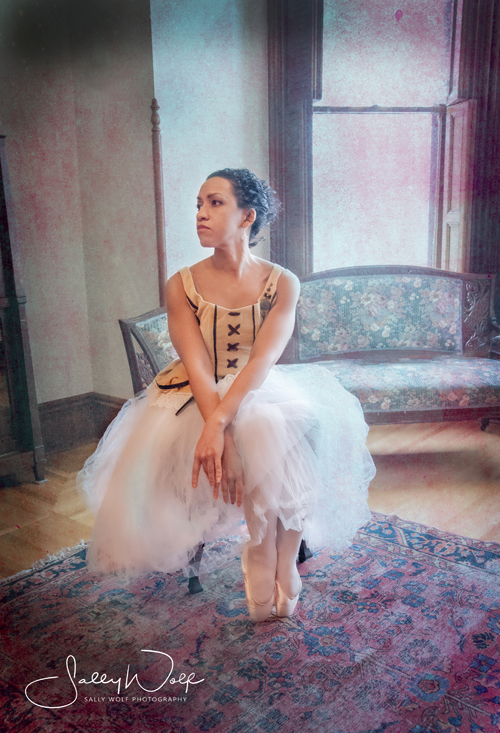 Dance Instructor:
Shauna Steele


  Shauna is the area coordinator for dance in the School of Music, Theatre, and Dance at Anderson University. She is the founder and artistic director of Mocha Dance Project, which pursues projects engaging the fusion of photography, video, dance and collaboration, and the Associate Director for Rustic Groove Dance. With fourteen years of teaching and education experience, her research interests include dance in world culture and context, Africanized movement in the Diaspora of Western culture specifically Afro-Cuban and Afro-Caribbean, the influences of Celtic traditions on art and movement, the function of art in restricted or repressed environment's, and body movement logic. Her current choreography projects include Habitat a site-specific work, My Name, an evening length concert concerning the lost in society and Still Frame, a video dance project mimicking the idea of stop-motion photography as film. She is also the co-author of "Experiencing Dance: A Creative Approach to Dance Appreciation." She received her MFA in Dance Performance and Choreography from the University of Michigan with a field focus in Dance History and Art and Technology.  Shauna has been at Anderson University since 2011.
Leader:
Sally Meyer Wolf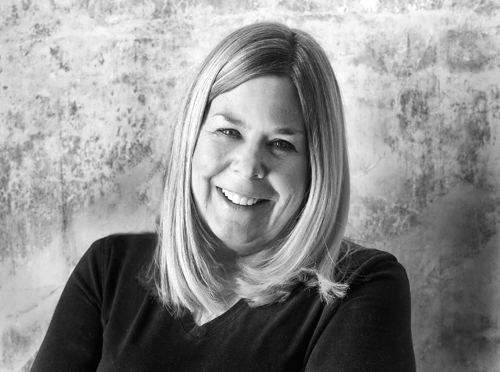 Sally is a seasoned veteran of many types of photography and graphic arts experience.  She holds a B.S. in Art Education from Indiana University and taught art in the public schools before working in her family's corporate audiovisual business.  There, Sally applied her graphics and photography talents to meet the needs of commercial and industrial clients.  Since 2002, Sally has photographed weddings, portrait sessions and commercial photography.  In 2013, she and iPhone photographer Rad Drew began leading photo workshops to The Palouse, Cuba, Gary and rural Indiana.  Sally continues to work in the studio that she officially opened in 2010 in Arcadia, Indiana.  She has won numerous photographic awards including the Indiana State Fair Top Ten in 2016 and recognition from Lafayette Art Museum, Anderson center for the Arts, Honeywell Clark Gallery, and Kokomo Art Association.  She's been named Photographer of the Year by the Indianapolis Photo Venture Camera Club three times.  Sally is also an active member in several other prominent Indiana camera clubs.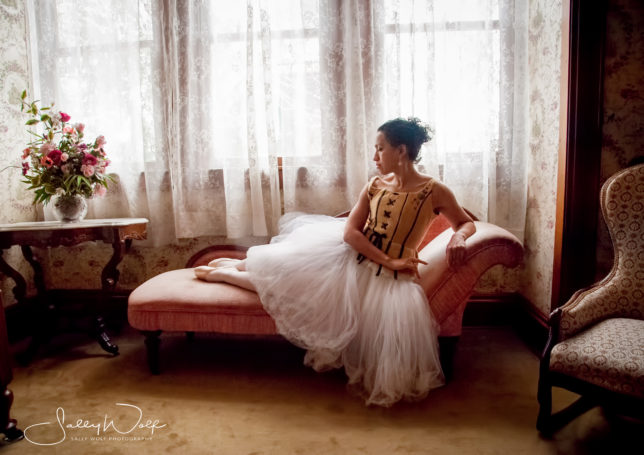 Camera Gear (suggested)
DSLR, Mirrorless, Pocket and/or cell phone cameras
50mm
100mm
24-70mm
24–120mm
Wide Angle
Monopod (no tripods – space is limited and the antique furniture is delicate)
Suggested Apps
Snapseed
Distressed FX
FabFocus
Retouch
VividHDR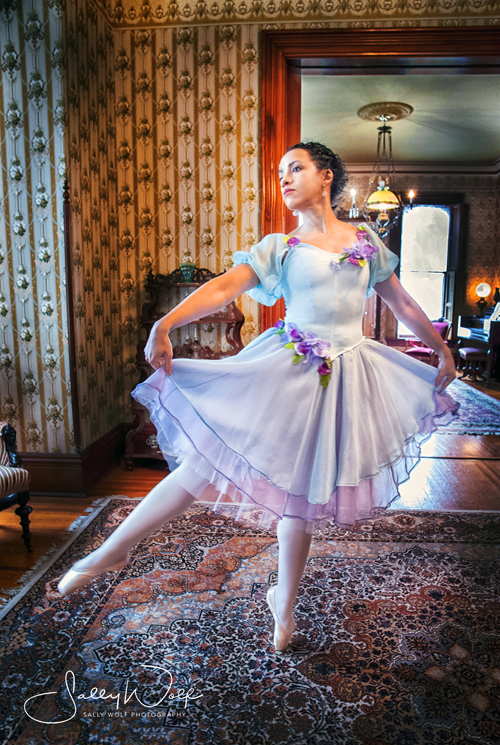 Fees and Registration
$165.00 per person
Limited to 12 participants and registration is accepted on a first come, first basis.
10% discount for students.
The photographers can keep their images, however, we would like you to share images with the dancers.  Also you have the rights to use them but limited to personal portfolio, exhibits, and web use.
Participants must be at least 18 or accompanied by a parent.  I will lead and coordinate the day.  Agenda may be changed due to weather or other considerations.
Transportation is not provided.  Participants must have their own transportation.
Cancellation and Refund Policy
I understand that attending our workshop requires advance commitment and things can happen in life that may require you to cancel from the workshop.  Based on cancellation date, the following terms apply:
45 days before the day of the workshop: 50% refund of any payments made
30 days before the day of the workshop: 25% refund of any payments made